News Archive
Editorial K 2019
---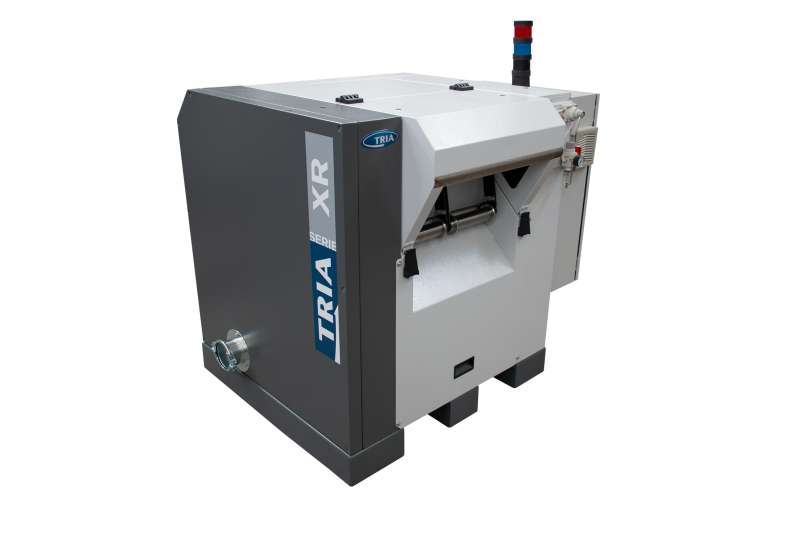 RECOVERY OF EDGE TRIMS: STEP AHEAD IN PERFORMANCE
Faster extrusion lines, thinner thickness of materials, PS, PP, PLA, PET with slippery and sticky additives: are some of the factors that made grinding process of trims more difficult.
Careful studies, perfect design and tests at customer companies, has brought to life in TRIA's HQ to the new generation of grinders for edge trims: XR series.
In addition to the main characteristics that distinguishes TRIA, such as the discharge surface equal to 50% of blades rotation length and the access without tools to the main parts subject to ordinary maintenance, we can notice among the novelties of XR grinders:
Grinding of edge trims with slippery and sticky additives, from thickness of 100 µm
Speed regulation from 0 to 156 m/min against 110 m/min of the TRK previous version

Possibility to set to zero the traction unit speed with active accumulator, avoid slipping of rollers and breaking of material during the change of the reel; also material windings are almost cancelled

Standard: possibility to synchronize traction unit speed with production line

New design with moving parts inside the perimeter to work in total safety

Noise reduced of 4dB compared to previous TRK series

Remote control with Bluetooth application
Ease of use and maintenance without tilting of the traction unit

Two series: one with double traction unit (190 mm), one with single traction unit (320 mm) for throughput up to 250 kg/h
Lastly a big flexibility advantage. One motorized roller and one free roller: possibility to add an optional kit with the second motorized roller, in case of new material formulations.
SMART GRINDER: 4.0 AND SUSTAINABILITY
4.0 technology is the new standard, also companies are adopting to it. TRIA that keeps attention to customer needs, is doing the same: we have created various applications including a repeated supply to a big Automotive Multinational.
TRIA that is adopting Euromap directives in terms of communication protocols OPC-UA between different machines, has created applications that can be easily adaptive to the customers production line.
These applications allow:
Continuous monitoring of all the system
System diagnostic

Tele-assistance

Continuous monitoring of consumptions

Continuous monitoring of blades wear

Monitoring of the temperature during material feeding, thus avoiding creation of dust, angel hair and overheating of material inside grinding chamber

Remote control of the system
Industry 4.0 means also sustainability and energy saving. In fact:
Only 10% of installed power is used for dry operation

Only 30% of installed power is used for grinding
Moreover the energy consumption is minimized thanks to the standard function: sequential automatic shutdown, in case of prolonged absence of material at the entrance of the grinder.